Procter Automotive is proud to offer expert auto service in Abilene to our valued customers. We have continually invested in the best diagnostic technology available in the automotive repair industry. The design of vehicles has made huge advances in the nearly seventy years since we opened up, and we have always been committed to advancing along with it. And our customers do not pay more for our advanced diagnostic capabilities. With the most accurate diagnostics available, we are able to lower our average labor costs and perform auto repair services more efficiently.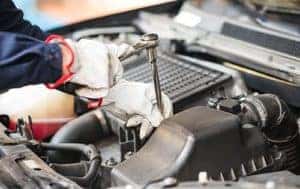 Friendly and Honest Auto Service Available

Our commitment to fair and honest conduct starts with our thorough and honest communication. Once we have checked your check engine light and diagnosed your vehicle's problem, we will give you a call to discuss results, auto repair services needed, and review the cost(s) upfront. We want our customers to be fully informed throughout the repair process. When you come to us for auto service you will leave our Abilene shop satisfied and informed. Operating with transparency has helped us build strong relationships and a high level of trust with our customers and our suppliers. We are proud to provide car maintenance service for the Taylor County Sheriff's department. The people you trust in an emergency trust Procter Automotive to keep them running.

Procter Automotive puts employee training as a top priority to ensure we are providing our customers service with an unmatched level of expertise and excellence. Whether your vehicle needs an alignment, oil change, brake repair, clutch replacement or even a transmission repair, you can count on us to provide top quality auto repair service. All of the technicians at Procter Automotive receive paid training with continuing education, certifications, and make specific training. This allows us to provide the most advanced and cost effective car maintenance as well as truck repair and BMW services around. Procter Automotive is proud to be the only repair auto shop in Procter Automotive that is a member of Automotive Training Institute (ATI), which shows our dedication to industry best practices. ATI is the premier automotive consulting firm in the United States, and has named Procter Automotive as one of the top 50 shops in America. Employing the best technicians making sure we never stop learning has earned us 99% Customer Satisfaction rating. This makes our auto service facility Abilene's only AAA Texas approved shop. So bring in your Mercedes, Porsche, Range Rover, Jaguar or Audi for the best European auto service you can trust.